The New York Certificate of Dissolution of Marriage is a legal document proving that spouses are officially divorced. When the marriage is terminated in court, a divorce certificate NY must be filed with the New York State Department of Health. A divorce certificate in NYC includes the full names of spouses, the location of their birth and residence, the place where the marriage was registered, and information on when and where the divorce took place. Additionally, it contains some sensitive details regarding the divorce case, like the race of spouses, number of previous marriages, etc., which are kept confidential.
One may be requested to provide the dissolution of marriage certificate when changing the last name in the documents, like a driver's license or ID card, after the divorce. Moreover, it is also necessary to present the divorce certificate to obtain a new marriage certificate when a person decides to re-marry.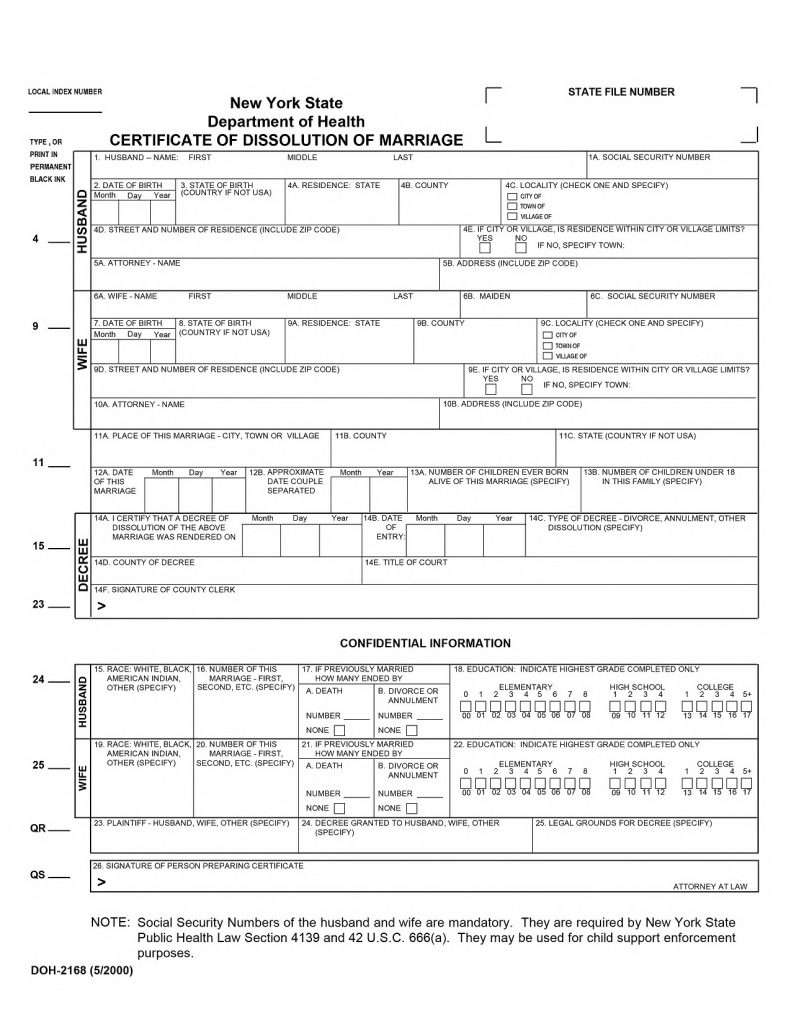 How Can I Get My Certificate of Dissolution of Marriage Online?
The former spouses or any other person who has the state-issued court order and can prove their identity have the right to get a copy of the divorce certificate from the New York State Department of Health. One may request a copy in person, via mail, as well as order it online and download NY certificate of dissolution of marriage from the comfort of their home. It is best to check the fees for each of these options and the terms of delivery in advance, as they may vary.
It is necessary to submit an application and prove the identity with a valid photo ID document, like a driver's license, ID card, or passport. Otherwise, one should provide telephone or utility bills plus a letter from a government agency issued within half a year when filing the application.